---
The site on which BJ's stood at 71 Grenfell Road is now home to a series of flats. Here we tell the story of the pub.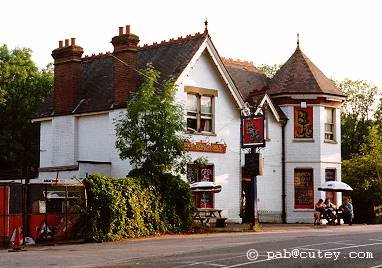 Happier times - drinkers outside the pub in July 1997
BJ's was originally the "Nag's Head." Pat & Florrie O'Neill ran this Courage pub as tenants from November 1971 for 20 years. For a year after that the licence was held by the couple's two daughters. Apparently the building had a haunted hay loft and iron rings in the cellar where servants would have had their bed curtains.
In those days the pub had magnolia coloured flock wall paper, standard 1950's style optics, comedy pool playing dog pictures, Babycham bambi's, and a set of flying Guinness toucans on the walls. The customers were a revolving band of regulars. The Nag's was an old fashioned drinking pub - no swearing; if you're going to fight do it outside; a Christmas food parcel collection for the old folk who lived up Grenfell Road, delivered by a very unconvincing landlord in a red plastic suit with some quite drunk little pixy helpers; football games in Grenfell park (opposite) on Boxing Day. The O'Neill's ran charity events like car smashing, yard of ale drinking and Mr World fancy dress competitions. And they kept a really good pint of Guinness...
The pub was sold to some bikers in July 1992, and became "Berkshire's only biker-bar." BJ's was also known as the Big Red Machine. It was owned by Phoenix Inns.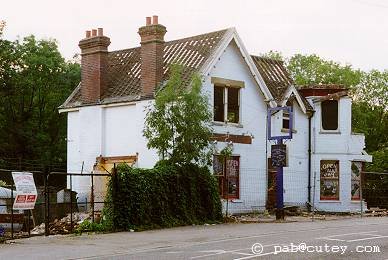 Pictures above and below taken August 1997
BJ's was closed for the last time on 11 August 1997. Maidenhead and District Housing Association have turned the site into an area of 3-storey flats.
Despite being demolished in the same month it closed, the site stood empty until September 1998 when work started on the new flats. They were completed around June 1999.
It's a great shame that this unusual building has been destroyed.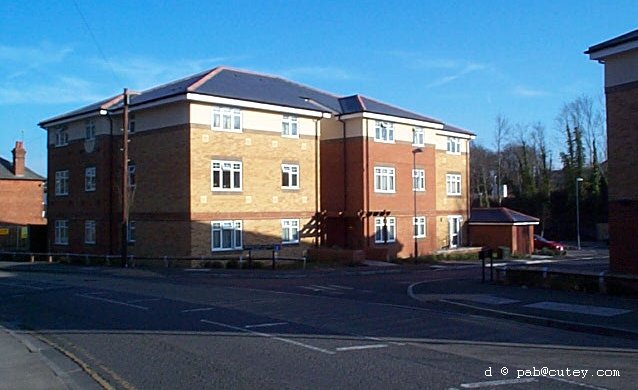 This photo shows the flats on the site in March 2000.
Maidenhead.net thanks an anonymous contributor for information that made this page possible.
Return to the history section.
---