---
| | | | |
| --- | --- | --- | --- |
| The Hand and Flowers | | | Map ref: 8 |
| | |
| --- | --- |
| 15 Queen Street | Tel: 01628 623800 |
Why not add your comments to this review?
Reopened in March 1999 after a refit. Still one of our favourites, smart stylish and trendy, with a wine-bar type atmosphere. A central location and a flat "shop front" outside, very pretty. Lots of stylish varnished wood around. The actual bar area (now moved to the right) seems remarkably big in relation to the floor area of the pub, we think they could have made it smaller and allowed more room for punters. Brakspear beers, including the brewery's seasonal ales. Wine displayed on halogen-lit racks looks inviting; available by the glass or bottle. Very quiet tasteful background music and some "amusing" drink related quotes on the terra-cotta coloured walls. The pub is more appealing to the masses, even if the old regulars think it's lost a bit of its charm. Attracts an older crowd than places like The Bear. Brakspear brewery. Keith Warner, the publican until the end of January 1998, was given the Publican of the Year award by the Maidenhead branch of CAMRA. Denise Lothian is now the publican.

Peter Green writes on 19 March 2001:
Previously one of my favourite pubs, the much needed facelift is marred only by some bizarre ionisation machine, presumably employed to combat cigarette smoke, that produces a nauseating level of ozone - quite literally. The effect of this is for me, and others is to leave very quickly. I would also assume that ozone concentration at these levels may be dangerous as it does have a toxic effect. It's also probably unhealthy to quaff a pint of Stella whilst holding your breath.
Luisa Williams writes on 18 December 2001:
Personally I have worked in over 20 pubs in this area over the years and I can honestly say I have never worked in a nicer place. The staff are friendly and the punters are great too. When the rugby boys are in the atmosphere buzzes and even when they are not, its just one of those places you can go where you aren't going to get hassle and it will be an enjoyable evening all round. I really miss the place.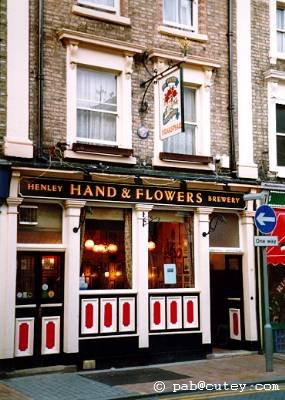 Photograph taken July 1997
Why not add your comments to this review?
The maidenhead.net Eating & Drinking Guide contains reviews of many
pubs/restaurants/cafes in and around Maidenhead in Berkshire, UK.
Return to the Eating & Drinking Guide main page.
---